This page is a stub.

This article is lacking basic information and requires further editing to reach a quality standard. You can help it get there through your contributions.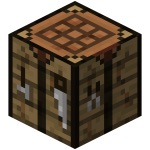 The Crafting Table is a utility block in
Minecraft
.
The crafting table's purpose is to craft, or make items in a 3x3 square. If there was no such thing as a Crafting Table,Minecraft would be the worst game (Maybe).
What you need to know about crafting
Edit
The crafting guide is a comlete list recipes in Minecraft. This guide tells you how to craft in Minecraft and includes everything from simple tools and weapons, to crafting complex mechanisms and transporation devices.

Crafting is how most things are made in Minecraft. The 2x2 crafting grid is accessed in the inventory. The 3x3 crafting grid - where most items are crafted - can be accessed with a crafting table.

The list is updated upon every Minecraft update, so you will always find the latest available crafting recipes here.
Recipes List
Edit
This is a complete list with all crafting recipes in Minecraft. If you find any errors or missing recipes, don't hesitate to contact us. Please note that Saddle and Horse armor can't be crafted at the moment.. (I is crafted with inventory and CT is crafting table.)
Wooden Planks are crafted by 1 of any type of wood. (I)
Crafting Table are crafted by 4 of any type of wood. (I)
Sticks are crafted by 2 wooden planks. (I)
Torches are crafted by a stick over coal. (I)
Furnace is crafted by a square out of cobblestone. (CT)
This is a W.I.P now!
Community content is available under
CC-BY-SA
unless otherwise noted.