Line 26:
Line 26:
 

* Slime

 

* Slime

 

* cat

 

* cat

−

* potato

+

*

 
+

*

 

Ender Dragon

 

Ender Dragon

 

For information on the bosses, go to this page here: [http://minecraft-and-geometry-dash.wikia.com/wiki/Bosses_in_Minecraft <nowiki>[BOSSES]</nowiki>]

 

For information on the bosses, go to this page here: [http://minecraft-and-geometry-dash.wikia.com/wiki/Bosses_in_Minecraft <nowiki>[BOSSES]</nowiki>]
---
Revision as of 00:39, 26 July 2019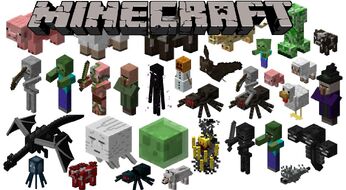 Mobs in Minecraft are other entities in the world, except from the player. A list of them in no particular order is right here:
Porco
Sheep
Ocelot
Cow
Bat
Snow Golem
Iron Golem
Mooshroom
Chicken
Squid
Villager
Horse
Hostile Mobs.
Creeper
Spider
Skeleton
Blaze
Zombie
Silverfish
Cave Spider
Wither Skeleton
wiki
Slime
cat
fox
Ender Dragon For information on the bosses, go to this page here: [BOSSES]
Community content is available under
CC-BY-SA
unless otherwise noted.